Felixstowe Drama Festival at the Pier Pavilion and Spa Pavilion
The Felixstowe Drama Festivals began at the now demolished Pier Pavilion in 1949, originally they were festivals of one-act plays. By the time it transferred to the newly built Spa Pavilion in 1951 it had become a festival of full length plays.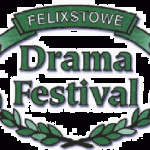 Just before the 1984 Festival the Spa Pavilion employed a new stage manager, Denise Newton. Although Denise had much experience in professional theatre and television work it was felt that she would benefit from some assistance in running the festival, particularly with the lighting of dramatic productions. At this time the festival was fully subscribed so ran for a full eight days. Staging and lighting eight different plays in eight days was a complicated and tiring job. As I had become the theatre's regular light board operator for the 1983 Summer Season and I had experince of lighting plays I was asked if I would join Denise for that first festival week; so began my twenty three years association with Felixstowe Drama Festival.
I well remember that first festival not only because Denise was fond of cider and so several pints of it were consumed during the week, but because when we came to lock the theatre after the final night party we discovered that the lighting man for team who had just performed – Company of Four – had gone off back to their store with the keys to the roof access door in his pocket. A frantic phone call discovered that he was still unloading their van and so we had to dash over to Woodbridge to collect the keys before we could finally secure the building. From then on I became Festival Lighting Supervisor and only theatre staff were allowed access to that part of the building!
Sir John Mills was the first patron of the festival and since its beginning many companies of performers have 'trodden the boards' in order to win one of the trophies available. Some teams notably Barn Theatre Group, Cardiff YMCA (later Cardiff Players) and Parkside Players from Ilford were regulars at every festival. Perhaps my one claim to fame is that I lit the final amatuer performance by Jenna-Louise Coleman who is now famous for playing Doctor Who's companion. Jenna was in a group called 'In Yer Space' who won the Felixstowe Festival on a couple of occassions, one of which was a day or so before she started filming for the role of Ashley's neice in Emmerdale.
Although they are no longer available on this site I have more details about the history of the Felixstowe Festival and an almost complete list of winners and runners-up dating from 1951 until the festival was last held in 2013. If you would like to know more please contact me.