Ipswich Hospital Radio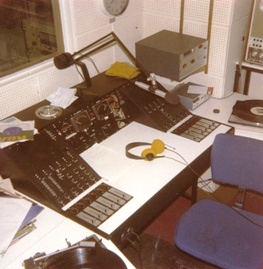 Whilst working in Ipswich around 1976 a mis-directed telephone call led to me joining Hospital Radio Ipswich where I remained a member until the early eighties. During this time I was variously chief record librarian, PRO, vice-chairman, a ward visitor, a presenter and an engineer (of sorts). It was an experience which I thoroughly enjoyed.
As an engineer I worked on various outside broadcasts including some plays from the Wolsey Theatre and concerts (usually military bands) from the Corn Exchange. I was also involved in the re-fitting of the Heath Road studio, being given the task of constructing the amplifiers used to drive the monitor loudspeakers and headphones. Judging by the model of reel-to-reel tape deck shown I think these pictures are of the new studio although I can't be sure.
---
Me on HRI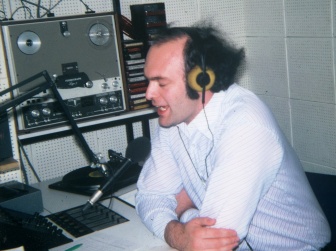 I presented a 60's music show and for a while co-hosted the children's show 'The Tiger Club' with Sue Brodribb. As a presenter I interviewed several interesting people; none more so than country singer Diane Soloman. I spoke to her backstage at Snape Maltings where she was due to record a TV special for Anglia Television. She was a very attractive lady and very nice, making a complete amateur feel totally at ease whilst interviewing her. She even arranged for me to stay and watch the concert.
She was also great fun during the recording when things did not go entirely according to plan and the session ran very late. To satisfy the director cameras had to be moved and a couple of numbers performed again. During the pauses between 'takes' Diane caused much laughter at his expense.
---
HRI OB at Heath Road wing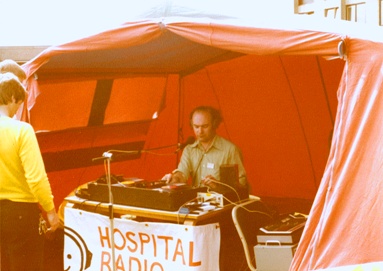 I particularly remember HRI's 10th. birthday as a day of big celebrations. Our giant fund raising event, opened by Rolf Harris, was held on the area in front of the maternity block – there were no buildings between the Maternity Block and Heath Road then, it was just grass. The station was on air all day with programmes coming live from the fete. Then as a culmination of the day's activities we joined Radio Orwell for an outside broadcast in which a current Hospital Radio presenter and an Orwell DJ, who was an former HRI member, visited various parts of the hospital. I had the pleasure of escorting Katie Glass to the maternity block!
I'm not sure that this photograph of yours truly at the decks was actually taken at the 10th birthday celebrations, but, it was definitely taken at one of several outside broadcasts we did from events held in front of the Maternity Block. Also in the picture are Owen Williams (in the yellow HRI top) and just visible behind Owen is Pete Raffell who I believe was Chief Engineer at the time.
Sadly, my involvement with HRI had to come to an end when I became professionally involved with the lighting at the Spa Pavilion Theatre in Felixstowe, although, I suppose you could say that things have now come almost full circle because, following my retirement from BBC Radio Suffolk, I have been invited to re-join HRI to assist the station engineer.
---
Hospital Radio Ipswich has been broadcasting programmes to patients of the Ipswich hospitals for over 30 years and they can now be heard by everyone on the web. Check out their web pages for information.