Origins of Top Hat Sound
At the same time as I was providing commentary at Peasenhall my good friend Ernie Rabett was involved with bingo calling for Leiston Labour Party. As the popularity of our respective events grew I needed help with commentary and he needed a relief caller for bingo. From this mutual need for assistance Top Hat Sound disco and PA service was born.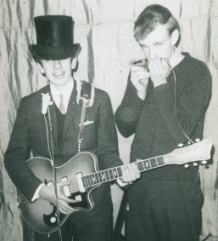 Why the name you might ask, well, I believe it came from the fact that we had an old silk top hat which Ernie and my brother, George, were messing about with at one time. The first 'disco' we ever did was a wedding reception for one of our friends, Barry Martin, in Snape village hall. For equipment I seem to remember we used my hi-fi turntable and 12 watt valve amplifier, and one large loudspeaker. From memory, I don't think we had a lightshow. A couple of the popular records we played were Freda Payne's 'Band of Gold' and Dave Edmunds Rockpile with 'I Here You Knocking'. I can still hear the catering ladies working for Vic Last complaining that the music was too loud! What would they make of the 900 watt system I can use for cabaret shows today?

---
Vortexion Amplifier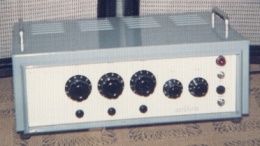 As our work load increased so we improved and added to our gear. For the PA side we invested in a mains and 12V battery powered Vortexion amplifier with an output of 60 watts, six Eagle horn loudspeakers, several hundred yards of cable and three home designed tripod stands which my brother made for us. This amplifier gave me my first experience of using the 100V line distribution system which ten years earlier Bob Henderson had told me he used. I now use this system for most of the outdoor events I work at. Its flexibility means that I can arrange loudspeakers to cover large areas using very long cables without loss of volume.
---
The first disco set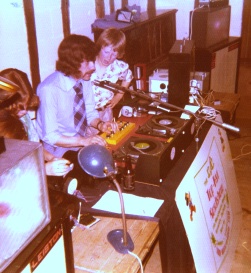 The disco used the same amplifier, two 12″ Whiteley Radio loudspeakers in custom cabinets, which I built to a design from Brian Babani's excellent Loudspeaker Cook-book, and a home constructed twin-turntable unit using Garrod SP2 MkI decks. Our light show at this stage was two oilwheel projectors, two pairs of coloured PAR36 type reflector lamps which I seem to remember just flashed off and on, and a sound-to-light unit. This controlled two home constructed light boxes fitted with coloured lamps in variously shaped cooking foil reflectors all hidden behind a glass front covered with textured Fablon. Both this controller and the audio mixer for the turntables were built from designs I saw in Practical Wireless. Incidentally, can you name the venue in this picture? If so please e-mail me.
During the next ten years or so we provided the PA system for numerous fetes and events around the area including the Sotterley Steam Rally (the fore-runner of the present one at Henham I think) and the two-day Sibton Horse Show which was featured in the BBC documentary I mentioned earlier. We also entertained at countless wedding receptions (including each others), parties and dances as far away as Gorleston, Ipswich, Stowmarket and Diss. One Saturday afternoon, having set up the equipment for a wedding reception at Scole, my wife and I were sitting in our van on a layby outside the town when a police patrol car pulled in. The driver came over to speak to me and I immediately began to wonder what I'd done wrong. It turned out that we have provided the disco for his wedding reception at Aldeburgh a couple of years earlier. He recognised the name on the van and came over to say hello. Phew, panic over!
1977, the year of the Queen's Silver Jubilee, was probably the busiest we ever had. At its peak we covered two events on one day. In the afternoon we were at a Sports Day on the LWAA ground in Victory Road, Leiston then in the evening we moved to Knodishall where we linked the Village Hall and the WI Hall together – via a cable run across the intervening gardens – for a big Village Celebration.

---
New Sounds Around kit

In the late seventies we purchased a FAL 100 watt amplifier to use with the new loudspeaker cabinets I had already built and completely updated the rest of the disco kit.
---
All four of us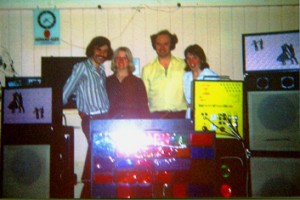 I designed and built a new console using Garrod SP2 MkIV decks, and added refinements such as fader-starts and Shure magnetic cartridges on the turn-tables, push-button cueing and talk-back. I also designed and built a whole new lightshow and controller.
I think the picture left of all four of us with the new kit was taken in Knodishall Village Hall; the one to the left was definitely taken in the dining room at 61 King Street, Felixstowe where the whole thing was built.
Following this upgrade and because we were now working a much larger area where we were less well known we decided to change the name to Sounds Around, which we felt conveyed more of a 'roadshow' image than our original Top Hat Disco.
As part of 'being a DJ' in the early 1970's I joined the fledgling East Anglian Disc Jockeys Association. Regular meetings were held at what is now Millars on the seafront at Felixstowe; then I think it was called Mannings. It was at these meetings I first met Jon Kennedy of the Dhobi Discotheque. The EADJA seemed to fizzle out after a while and I did not see Jon again until he, like me, joined Hospital Radio Ipswich. We've remained friends ever since, meeting on many occasions, particularly at the Orwell High School French Evenings – a fine excuse to drink lots of wine and have fun all in the name of culture – where he provided the music, and when I have carried out repairs to his disco equipment. Kath and I were very pleased when in 1999 Jon and his wife Judy agreed to provide the music for our Silver Wedding celebration.
Both 'Top Hat Sound' and 'Sounds Around' were successful and great fun, but, by the end of the 1970's work meant that Ernie and Rachel lived in Lowestoft and worked in Great Yarmouth, and Kath and I were living in Felixstowe and working in Ipswich. The physical distance between us, and the fact that I had joined Hospital Radio Ipswich, made it very difficult to fit in the discos and so reluctantly, soon after my son was born in 1981, we decided to call it a day. We sold most of the disco equipment to an up and coming DJ I had met through Hospital Radio – Stephen Foster (BBC Suffolk); gave the remaining PA gear to Hospital Radio Ipswich, and went our separate ways. Ernie continued with bingo for some time whilst I devoted my time to my wife, two children, a full time job and Hospital Radio Ipswich.